Obama, McCain urge restraint in Georgia
(CNN) -- U.S. presidential candidates John McCain and Barack Obama both spoke to Georgia's president Saturday and continued to call for an end to Russia's bombing of the former Soviet republic.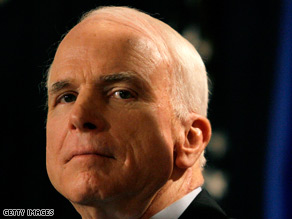 Sen. John McCain says he has warned against Russian actions that undermine the sovereignty of its neighbors.
Both candidates pressed for recognition of Georgia's sovereignty pushed for diplomacy in the conflict.
"For many years, I have warned against Russian actions that undermine the sovereignty of its neighbors," McCain, the presumptive Republican nominee, said Saturday. "Unfortunately, we have seen in recent days Russia demonstrate that these concerns were well-founded."
Obama also condemned "the violation of Georgia's sovereignty" and called for "an immediate cease-fire."
"Russia must stop its bombing campaign, cease flights of Russian aircraft in Georgian airspace and withdraw its ground forces from Georgia," Obama said.
Dozens of Russian warplanes bombed civilian and military targets in the former republic of Georgia on Saturday, and a Russian ambassador said that as many as 2,000 people had been killed in the capital of separatist Georgian province South Ossetia.
The Kodori Gorge in upper Abkhazia -- a second breakaway province in Georgia -- was also bombarded by at least 12 Russian jets, Georgian officials said.

Watch report on the latest violence between Russia and Georgia »
The situation in South Ossetia escalated rapidly from Thursday night, when Georgia said it had launched an operation into the region after its unilateral cease-fire was met with artillery fire from separatists that killed 10 people, including peacekeepers and civilians. It accused Russia of backing the separatists.
McCain said he has spoken to Georgian President Mikhail Saakashvili twice since the conflict began. "It is clear the situation is dire. ... I again call on the government of Russia to immediately and unconditionally withdraw its forces from the territory of Georgia."
He called the conflict a "threat to Euro-Atlantic security" and supported attempts by Western powers -- including the United States, the European Union and NATO -- to broker a cease-fire.

Obama, who also talked to Saakashvili, said that direct talks between Russia and Georgia are necessary.
"Diplomats at the highest levels from the United States, the European Union and the United Nations must become directly involved in mediating this military conflict and beginning a process to resolve the political disputes over the territories of South Ossetia and Abkhazia," he said. "A genuinely neutral mediator -- not the Russian government -- must begin a process of negotiations immediately."
Original article posted here
.