Extra Police And Military For Australian Aboriginal Towns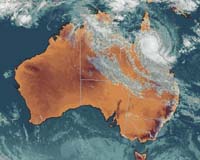 Most Australians think aboriginal people receive far more from government than non-aboriginal people. The truth is the complete opposite, and the reality is that it takes decades of intentional neglect and under-spending on - roads, schools, hospitals, parks, swimming pools, police stations, court houses - to achieve the utter disaster that Australia has created for one of the oldest "tribes" of homo sapiens.
Police backed by military support will arrive in Australian Aboriginal communities within days as part of a controversial plan to end child sex abuse, Prime Minister John Howard said Sunday. The deployment heralds a new strategy to end rampant sexual exploitation of children fuelled by alcohol abuse in indigenous communities in the vast Northern Territory.

The plan, which has been criticised as heavy-handed and "racist" by some Aboriginal groups, includes bans on alcohol and pornography in Aboriginal townships and medical examinations for all children under 16.

Howard announced the interventionist strategy on Thursday after a government report detailed paedophilia and juvenile prostitution in Aboriginal communities across the territory.

The prime minister said he had been driven to take drastic measures "because I felt the old approach had totally failed."

"The biggest single problem in these communities is that the women and the children are scared to death of complaining about the violence and the molestation," Howard told commercial television.

"And unless you get police on the ground, unless you establish the atmosphere of physical security, or a greater atmosphere of physical security, nothing is going to change, and that is the first and most important requirement."

Howard did not specify numbers but said extra police from the national force as well as those from the states of New South Wales and Victoria would arrive within the Northern Territory within 10 days.

"There's a big need to increase basic policing and once you've done that, it becomes possible to go to the next stage -- and the next stage is sending more doctors," he said.

Indigenous Affairs Minister Mal Brough said he hoped extra police would begin arriving in Aboriginal communities on Monday.

They will later be backed by logistics, communications and transport support from the Australian Defence Force.

"I expect to have the military deployed with the police within about a week's time," Brough told the Australian Broadcasting Corporation.

The government wants the changes to be rolled out across the country but this would require state governments to agree to implement the proposals.

Queensland Premier Peter Beattie urged the federal government to work with state governments to ensure current indigenous programs did not overlap with the new initiative.

Western Australian Premier Alan Carpenter said he was unable to commit extra police to plan, adding that the timing of the strategy was suspiciously close to national polls due later this year.

"When an election is looming on the horizon we suddenly get this flurry of ill-thought proposals," he said.

Aborigines number about 470,000 in Australia's population of 20 million, forming the country's most impoverished community, with high rates of unemployment, alcohol dependency and preventable diseases.